Blog
How to find a suitable wedding caterer
Published:
Modified:
When it comes to planning a wedding and choosing the food to serve to your guests, the world is your oyster. You want to impress your guests and leave them talking about your wedding day for years to come.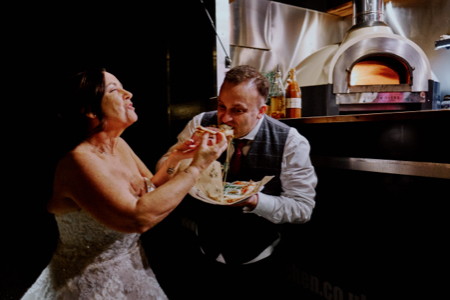 More and more couples are moving away from the traditional, 3 course wedding breakfast and choosing an alternative, more relaxed and informal atmosphere for their day. Wood Fired Pizza and Street food does just that. It has never been so popular and the culinary choice is endless.
So, where do you begin?

The choice of food you serve at your wedding depends on a number of things. Most importantly it should reflect:-
who you are as a couple;
your lifestyle and the food you like to eat;
the atmosphere you would like to create;
your budget.
Once you have established this, you are then ready to choose your wedding caterer.

The more organised you are with the planning of your wedding the better. We often have enquiries from Brides & Grooms 1-3 years in advance and our calendar can fill up quickly. However, it is always worth giving us a call at short notice. Amber's Woodfired Kitchen love feeding people!
Choosing the food for your wedding should be fun, stress free and exciting. Ambers Wood Fired Kitchen are here to make sure the catering for your wedding day is exactly that.
How do you find a suitable wedding caterer?
The best way to find the caterer your looking for is to ask your family & friends. Have any of your friends recently married? Recommendations and word of mouth are still the most popular way prospective clients come to us. Most have been guests at a previous wedding or party we have catered for, or know someone that has.

Get online and do some research. Check out their website, Google and Facebook reviews. What do past clients say about them? And don't forget to go back and leave a nice review once all the wedding dust has settled. It is so rewarding to read how clients loved our pizza, how they love the service we provide and how much our hard work is appreciated.

Experience - Are they an established business or new to the scene? How long have they been trading? Before establishing our event catering business in 2012, Jolyon and I had previously worked in the hospitality industry collectively for over 25 years. We trained from the bottom up, first as KP's straight out of school, to eventually working our way to head chef roles in restaurants and gastro pubs mostly within Shropshire. This background gave us the experience and the technical know how to make sure food service runs efficiently and smoothly, whether that be at a wedding or at a large festival or event.

Do they have the right equipment for the job? How efficient is their wood fired oven? Too often we are hearing of stories of caterers not being able to keep up with the demands of a wedding and that food service was slow. This is mainly due to inexperience and also the size of the wood fired oven. Our wood fired ovens can cook 5-6 x 10" pizzas at a time. We also ensure we have the correct number of staff:guest ratio.

Last and most certainly not least. Hygiene rating - Is the business registered with your local Food Standards Agency? Stars are awarded by your local authority from 0-5 to protect you and your guests. All wedding suppliers worth their salt will hold a 5 star hygiene rating. We are very proud of our 5 star rating and go to great lengths to maintain it. Our bespoke pizza van is fitted with a hot water system for hand washing and also commercial grade refrigeration to keep your food at its best whilst mobile. We are also well practiced with food intolerances and allergens.

Choosing the food for your wedding should be fun, stress free and exciting. Ambers Wood Fired Kitchen are here to make sure the catering for your wedding day is exactly that.